Keeping creative during this crazy time we are in has been a bit of a struggle for me. I've been looking for an affordable hand painted backdrop for quite awhile now, but couldn't pull the trigger. Soooo...I thought why not create my own! I went down the rabbit hole of tons of various YouTube tutorials. The majority were quite helpful but I kind of went rogue and just winged it haha. Below is a breakdown of what I used and my process.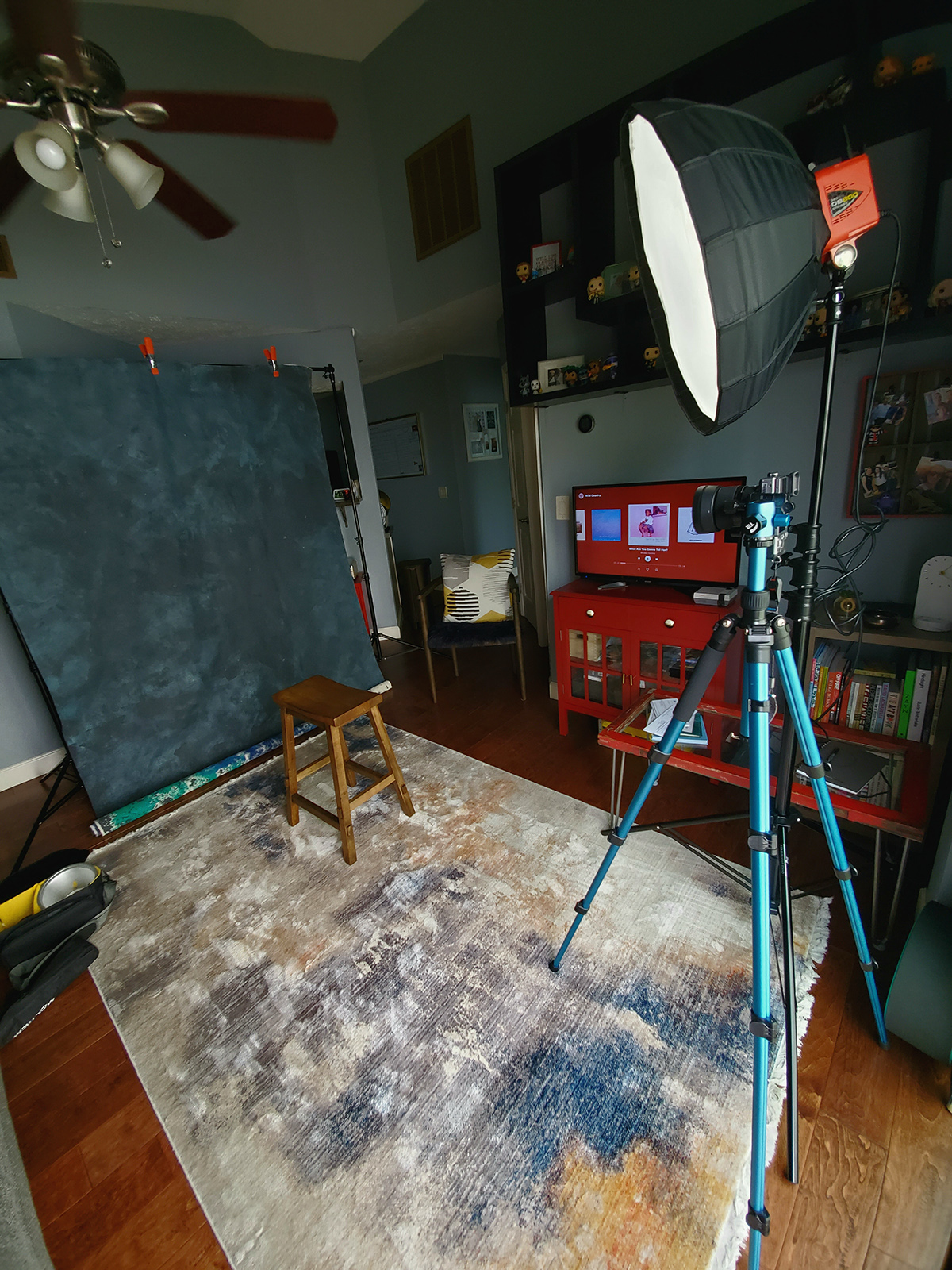 MATERIALS
DROP CLOTH - Drop Cloth - 6x9 Finished Size
VINYL DROP CLOTH - Trimaco 2 mil Stay Put Slip Resistant Vinyl Dropcloth
MAIN PAINT - Rust-Oleum 285144 Ultra Matte Interior Chalked Paint 30 oz, Charcoal
SECONDARY PAINT - Behr Gray Wool

GETTING STARTED
I purchased a 6x9 canvas drop cloth from Amazon and a small plastic tarp to go underneath while painting. I started to iron/steam the wrinkles out but not only got frustrated when it wasn't working all that well...but also a little impatient haha.
I laid the plastic tarp on my patio outside and then placed the canvas drop cloth on top.
It's not required, but I HIGHLY RECOMMEND priming the drop cloth. Being that it's initial design was to soak up paint, it does an excellent job of that so priming will surely help a better final result. For primer, I used a mix of house paint I had in my garage. Some were random paint samples, and another was a fuller can of a beige paint. Since this was just for priming I wasn't too concerned with what it looked like as I was just wanting the coverage.

APPLYING THE TOP COAT
After letting the drop cloth dry, approximately an hour, I opened up my top coat of paint and poured it into my paint tray. I used a quart of black chalk paint that I thinned with a bit of water. I applied it the canvas using a standard paint roller. It was looking good, but lacked the depth that I was hoping for. I tried using a sponge but wasn't liking the result I was getting. I went back into my garage and found another small paint sample I had purchased from home depot. The color was "Gray Wool" by Behr and had a blue tone to it, that I thought would look great with the black. I applied the new color over top of the black in a random pattern, still using the same paint roller, I thinned down the "gray wool" paint quite a bit as I knew I didn't have a lot to go around. I found there wasn't really a method to my madness haha just patience and stepping back to see what areas I liked, and which areas I hadn't. Adding the layers of paint helped smooth out the wrinkles and creases in the drop cloth, so that was a nice surprise.

FINAL RESULT
I'm by no means a self-portrait kind of guy, but I was too impatient to shoot with a real model to see how it would look. It's not perfect, but I was pleasantly surprised with the finished product!