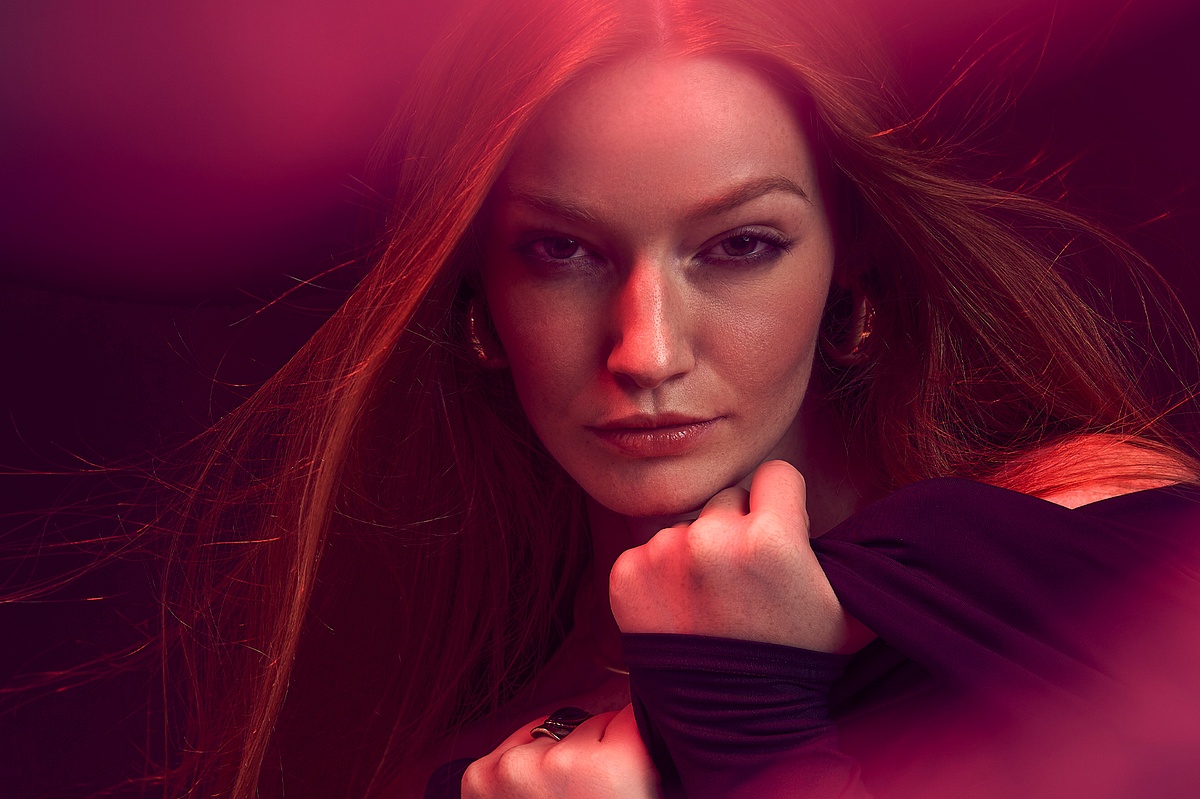 In the world of high-fashion photography, the setting often takes a backseat to the models and couture creations. However, with a dash of creativity and the right techniques, even a small space like a home garage can be transformed into a captivating studio for producing high-quality, high-fashion portraits. Let's dive into how you can turn this confined area into a realm of artistic possibilities.
My client, Haley Robbins, was traveling to New York Fashion Week and needed some creative and fashion forward images for her portfolio. We spent some time gathering inspiration and putting together a few outfits that would showcase her versatility as a model. Going from something minimal and relaxed, to something a bit artsy, and ending with some edgy moments as well.
Shooting in a studio space is great, but sometimes with time (and budget) constraints, you got to use what you have. Enter ... my garage haha. We were able to make it work by being creative, resourceful, and strategic!

Below are some things to consider to help make shooting in a small space work to your advantage!
1. Maximize Lighting Mastery: Lighting is the heartbeat of any photograph, and when it comes to fashion portraits, it's non-negotiable. Utilize the limited space to your advantage by harnessing both natural and artificial light sources. Position your subject near the garage door to allow soft, diffused natural light to flood in. Supplement this with strategically placed studio lights or reflectors to shape and highlight the model's features, creating that signature high-fashion look.

During my shoot with Haley, we didn't have an opportunity to utilize any natural light during any of our looks, so everything was created using off-camera flash.
2. Minimalistic Backdrops with Impact: A small space calls for a minimalistic approach to backdrops. Opt for neutral or solid-colored backdrops that won't overpower the subject. Alternatively, consider using textured fabrics or metallic foils for a touch of drama. These simple backdrops can magnify the focus on the model, allowing their expressive poses and the clothing to shine through.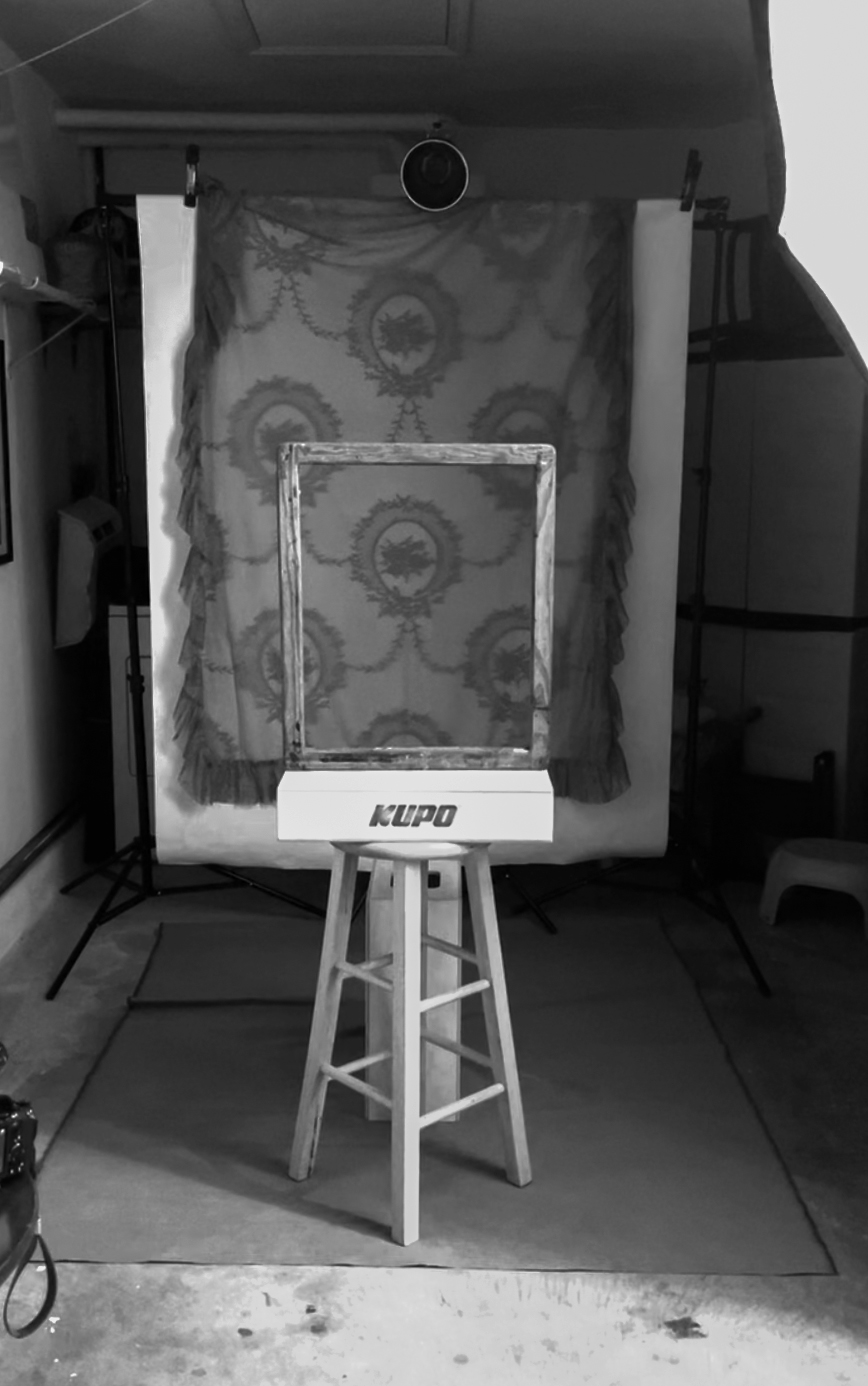 Funny story, the backdrop in the image of Haley (with her beret) was the backside of a canvas and a cheap lace green curtain overtop. The frame she's in is an old screen printer's frame that I had purchased at the Nashville Flea Market about six years ago.
3. Smart Space Utilization: Every inch counts in a compact setting. Experiment with angles and compositions that make the most of the available space. Use different heights, props, and furniture to add depth and variety to your shots.
4. Attention to Detail: In high-fashion photography, every detail matters. Ensure that the model's hair, makeup, and wardrobe are impeccable. With the smaller space, intricacies can be captured with precision, making the details stand out even more. Embrace close-ups to highlight accessories, fabrics, and embellishments.
5. Creative Post-Processing: The magic doesn't stop after the shoot. Elevate your portraits with post-processing techniques that emphasize the mood and style of high fashion. Experiment with color grading, retouching, and other editing methods to create a polished, magazine-worthy look.
6. Expressive Posing and Emotion: A confined space can encourage more intimate and intense poses. Collaborate closely with your model to bring out the desired emotions and expressions. Encourage graceful movements and strong gazes that encapsulate the essence of high fashion.
7. Make the Space an Extension of Your Vision: Don't treat the garage as a limitation, but rather an opportunity to innovate. Infuse elements of your personal style into the shoot. Whether it's incorporating unique props or using unexpected angles, let your creative vision shine through.
Creating high-fashion portraits in a small home garage studio requires careful planning, meticulous attention to detail, and a sprinkle of artistic flair. By mastering lighting, utilizing smart space techniques, and focusing on creativity, you can capture stunning portraits that rival those shot in grand studios. Remember, it's not about the size of the space, but the depth of your imagination that truly counts.